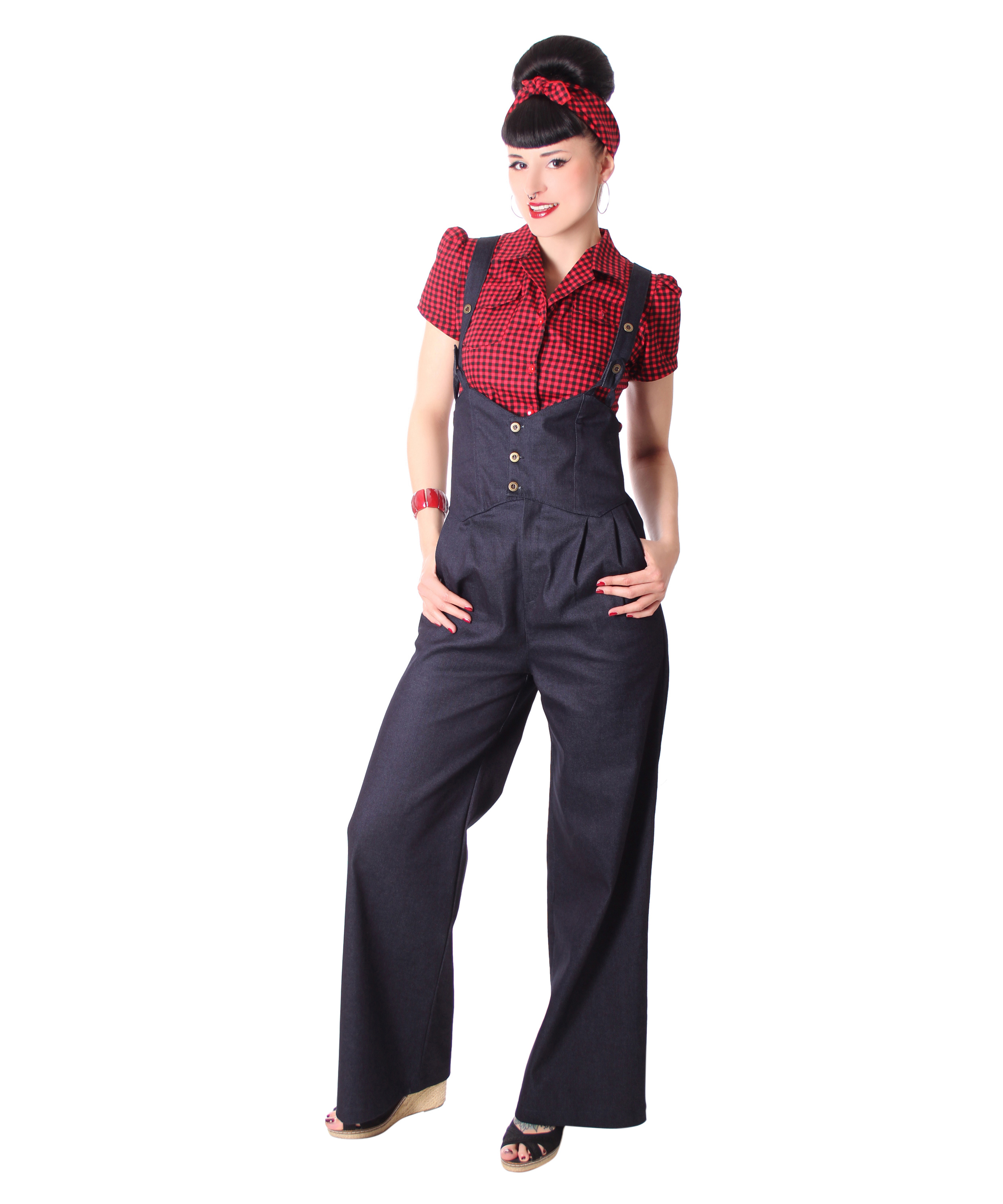 Lorai 30's 40's retro Marlene Suspender High Waist suspenders trousers by SugarShock
---
Casual Marlene trousers in timeless 40s design.

Item-ID: 4817 / Item number SSHO-17-23-9
* Incl. VAT excl. Shipping
** former price of the seller
Ready for shipping. Delivery time 1-3 working days within Germany.
Material Composition: Material: black: 80% polyester 20% Elastane, jeans: 95% cotton 5% Elastane
Care instructions: 30° machine wash
The trousers have a classic waist-high cut and have the typical Marlene wide leg pattern, which optically lengthens the legs.
The trousers are closed at the front with 3 buttons and a zipper. The stretchy fabrics convince by optimal wearing comfort.
The stylish, completely detachable straps are adjustable to 2 lengths and attached to the waistband with loops.
The shaping pleats, the side pockets and the decorative pocket flaps on the seat emphasise the stylish look.
The Marlene trousers look very feminine and are a fashionable, cutting-edge classic. It is one of our absolute favourite items from the current SugarShock collection Spring-Summer 2017.
The pants are of normal size, our model Lissi wears the pants in Gr S.
Whether as chic, black fabric trousers, or as robust jeans, these trousers are a real eye-catcher, and sets accents.
The blouse which our model wears is also available in our shop.
Brand: SugarShock
Colour: black, dark blue
Since clothing is always very different in terms of size, please note the following dimensions:
ca measures S - total length (without straps) 122cm, leg inside length 82cm, waist circumference up to max 76cm, hip circumference up to max 106cm
ca measures M - total length (without straps) 124cm, leg inside length 83cm, waist up to max 82cm, hip up to max 118cm
ca measures L - total length (without straps) 128cm, leg inside length 84cm, waist size up to max 89cm, hip size up to max 124cm
ca measures XL - total length (without straps)129cm, leg inside length 85cm, waist up to max 98cm, hip up to max 132cm ca measures XXL - total length (without straps) 129cm, leg inside length 85cm, waist up to max 104cm, hip up to max 140cm