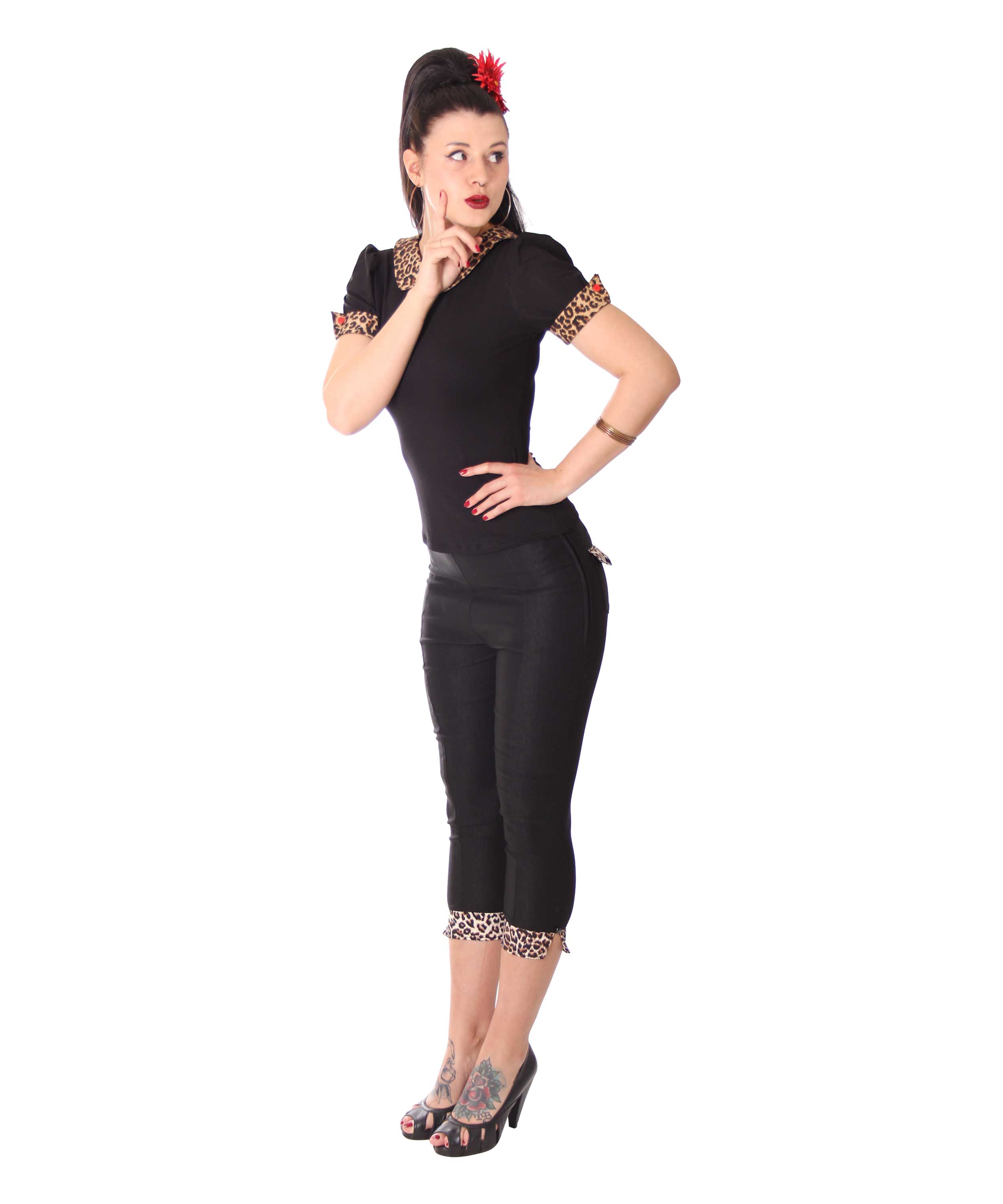 SugarShock Kalea 50s retro Pin Up High Waist Leo Capri pants 3/4 pants
---
Original High Waist capri pants from SugarShock.

Item-ID: 5502 / Item number SSHO-19-48
* Incl. VAT excl. Shipping
** former price of the seller
Ready for shipping. Delivery time 1-3 working days within Germany.
Material Composition: 80% polyester, 20% Elastane
Care instructions: 30° machine wash
The figure-hugging Capri pants fit the silhouette perfectly thanks to the mixed quality with elastane.
The tight trouser legs,  the beautiful High Waist waistband, and the discreet decorative seams, make the trousers an absolutely stylish eye-catcher.
The trousers can be closed at the side with a hook & zipper!
The animalistic leopard pattern, the practical back pockets and the slit leg cuffs have a casual and attractive look.
The classic, 50's typical cut is wonderfully figure-flattering and makes the legs look especially long and sexy!

The Capri pants are a versatile combination partner!
!! The trousers are normal sized, but very tight at the calves! Therefore the trousers are only suitable for very narrow calves.
Our model Lissi wears the pants in size M
The matching top, can also be purchased in our shop! 

Brand: SugarShock
Colours: black
e.g;
ca measures S  -  total length 82cm, leg inside length 57cm, waist circumference up to max 80cm, calf circumference (below) up to max 35cm
ca measures M  - total length 83cm, leg inside length 57cm, waist circumference up to max 86cm, calf circumference (below) up to max 36cm
ca measures L  -  total length 86cm, leg inside length 58cm, waist circumference up to max 88cm, calf circumference (below) up to max 40cm
ca measures XL - total length 88cm, leg inside length 59cm, waist circumference up to  max 100cm, calf circumference (below) up to max 42cm
ca measures XXL -total length 89cm, leg inside length 59cm, waist circumference up to max 106cm, calf circumference (below) up to max 46cm